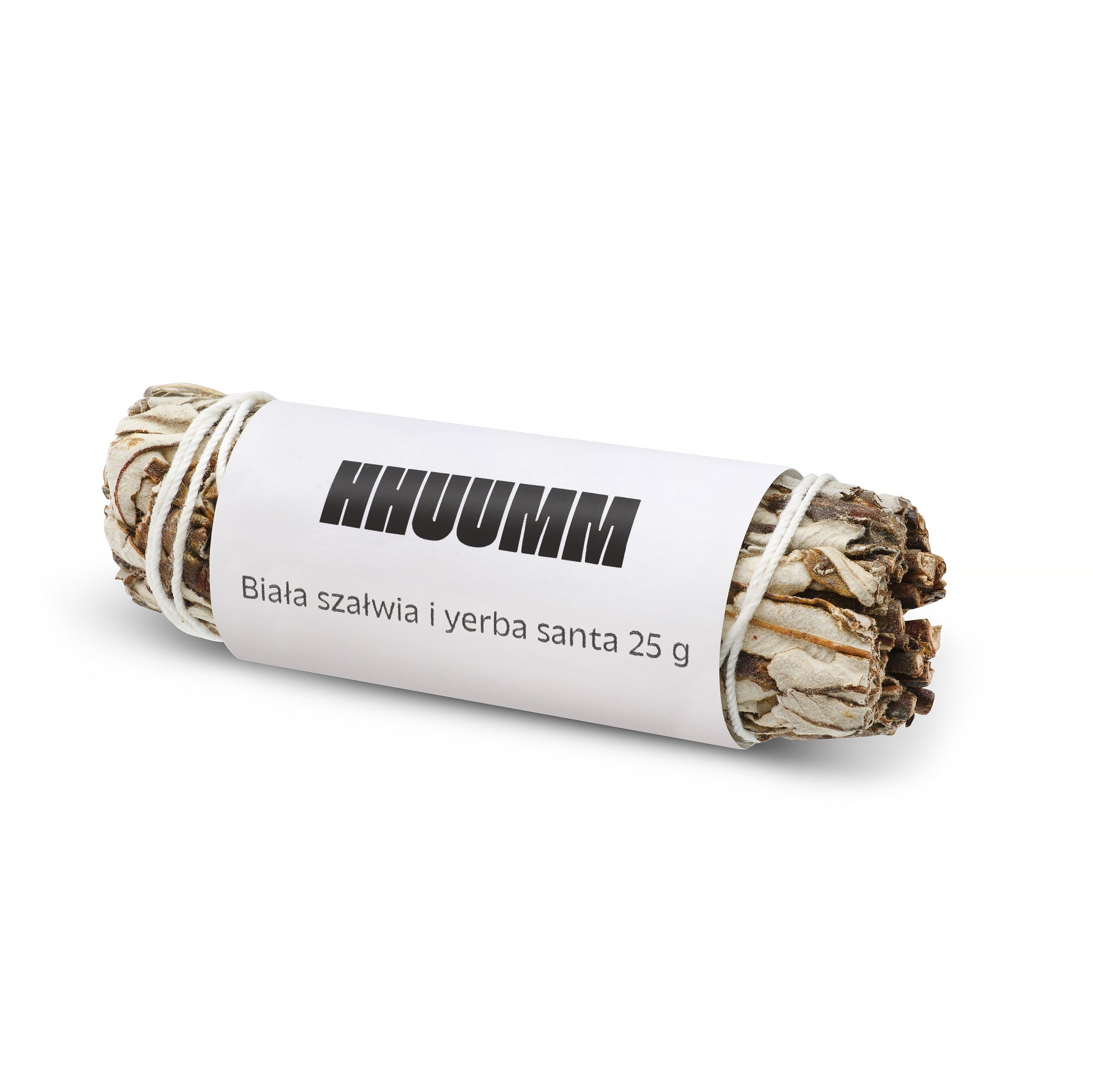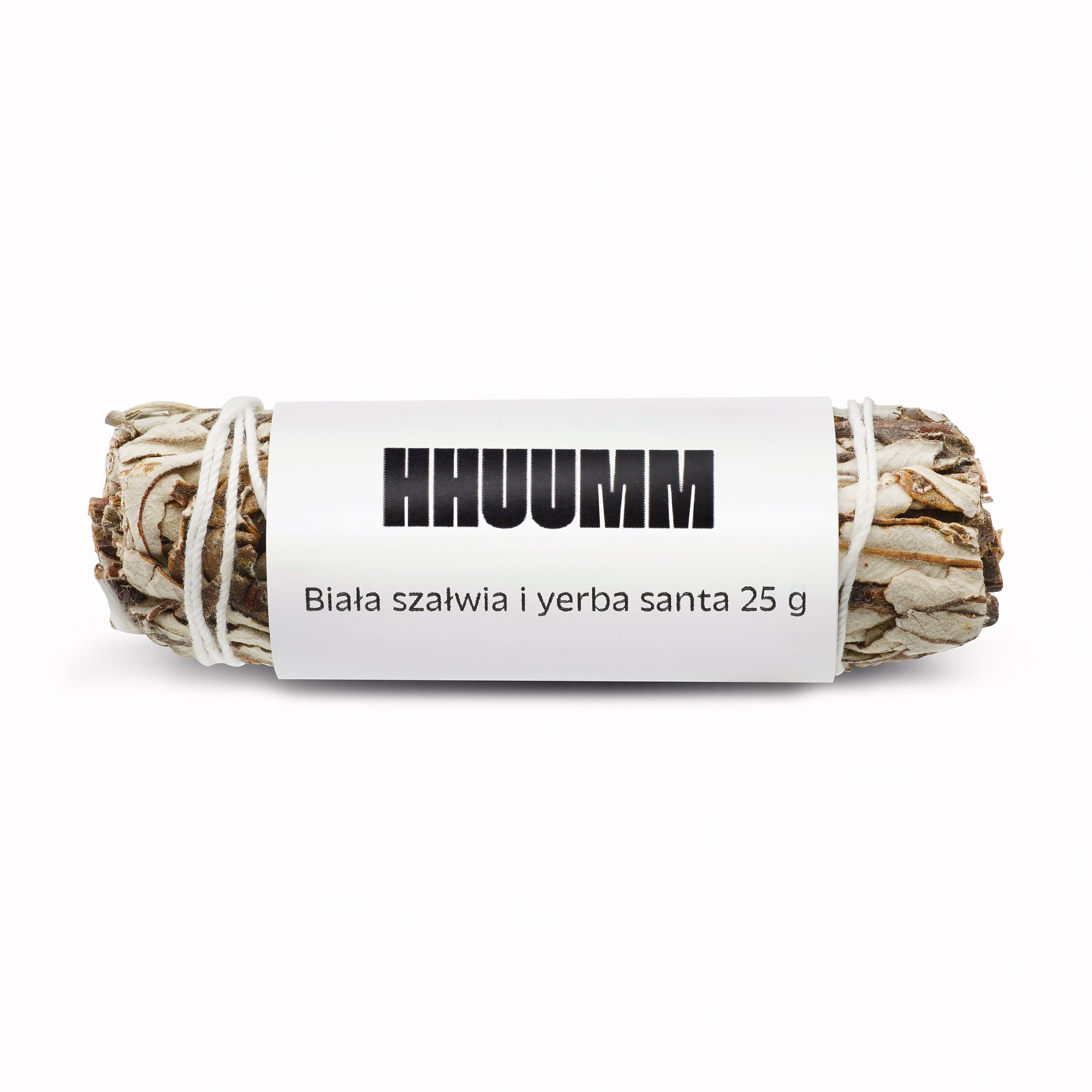 White sage and yerba santa 25g
29,99 zł
Regular price
39,99 zł
off
Lowest price 30 days before the discount:
Safe payments PayU, Blik, PayPal
Shipping in 24 hours and 14 days return policy
Have questions? Write to kontakt@hhuumm.pl
Incense in the form of a bundle of white sage leaves and yerba santa.

White Sage is a holy herb of the Navajo Indians - it cleanses of negative energy, helps in healing the body, mind and soul.
Salvia apiana, also known as Indian sage, is a unique plant. When set on fire, it smoulders and emits an extremely aromatic smell. It relieves tension and stress.
Yerba Santa is suitable for purification rites. It is also smoked for comfort and courage and as an aphrodisiac.


Length: 12-13cm
Weight: 25 - 30g


How to use: light the tip of the incense, blow it out and go around the room, house or outline the character in order to clean the aura from the bottom up, incense the object, etc. Then extinguish it by suffocating or dipping the tip of the incense in water.

Note: Never leave burning incense unattended, within the reach of children or pets, or near flammable materials. Store in a dry and ventilated place.
White sage and yerba santa 25g
29,99 zł
Regular price
39,99 zł
Delivery and Returns
Delivery
We ship most orders within 24 hours of receiving payment or sooner
during sales campaigns, the execution time may be extended
Free delivery for orders from PLN 150 applies in Poland, the minimum order value after calculating a possible discount
The shipping cost from PLN 12 is valid in Poland and depends on the delivery method chosen by the buyer
International shipments
Contact us by e-mail at kontakt@hhuumm.com - we will determine individual shipping costs.
Method of packaging
To pack your parcels, we try to use ecological materials, such as cardboard boxes, paper fillers and scraper, which is a friendly filler. Skropak is made of ingredients of plant origin - additionally, it is completely compostable, and the process of utilization of this filler does not pollute the natural environment.
Delivery time in Poland : up to 24 working hours
Returns
If you want to return or exchange the purchased product for another one, please contact us at kontakt@hhuumm.com
Only unused products together with packaging are subject to return
The time to submit a return is 14 calendar days from the date of delivery of the order
About us
Quality
We try to make the materials used in our products natural, biodegradable and least harmful to the environment. We take care of every detail to best meet your expectations.
Solidity
We want to share our knowledge and experience, which we use every day in our pursuit of health and beauty. The basic value of our brand is the desire to give pleasure from using our products, which we create in compliance with all standards and norms.
Effectiveness
Contact with nature and a passion for simplicity have contributed to the creation of a unique style that we want to present by handing you our products. We appreciate peace and quiet, we want our products to provide relaxation and harmony in your own home.