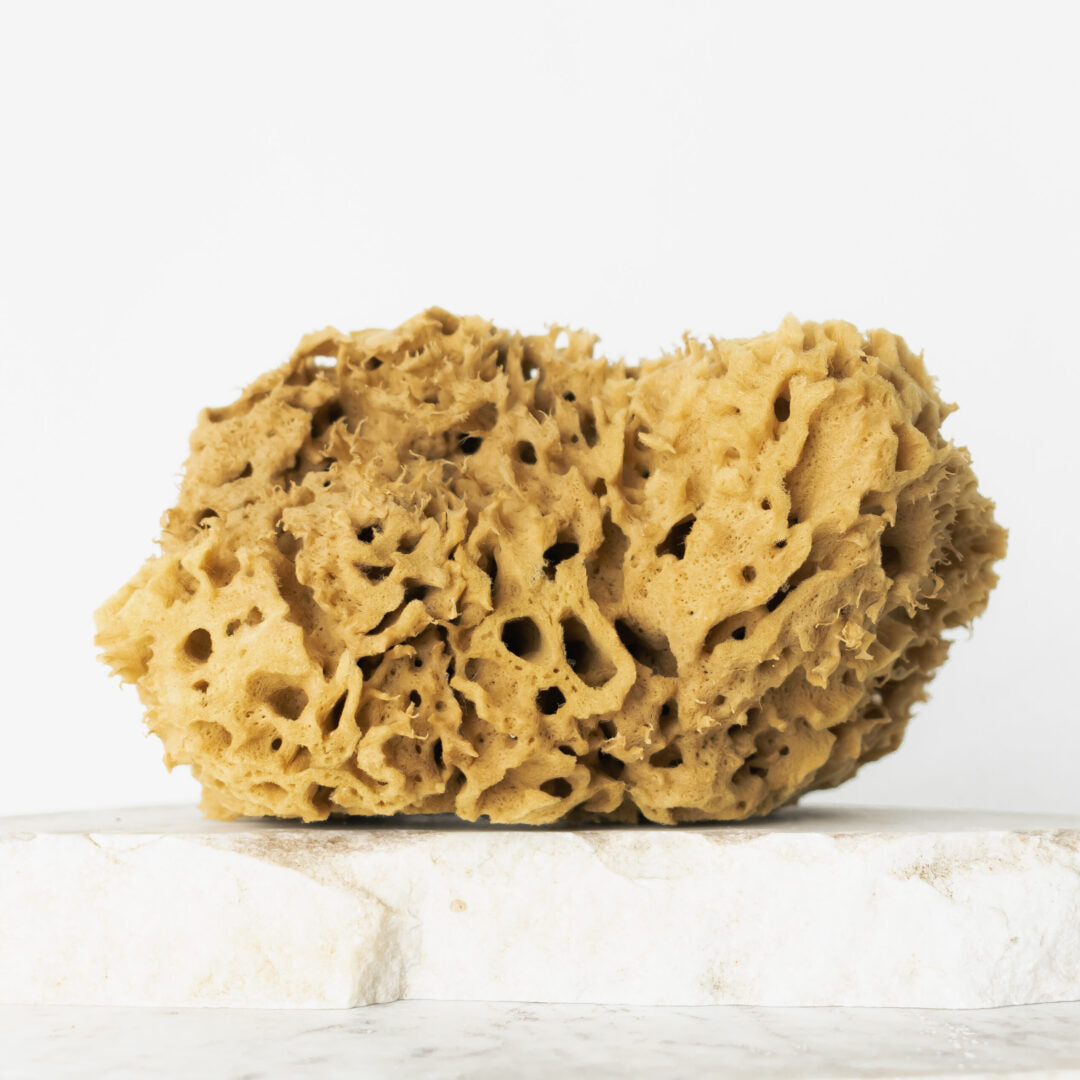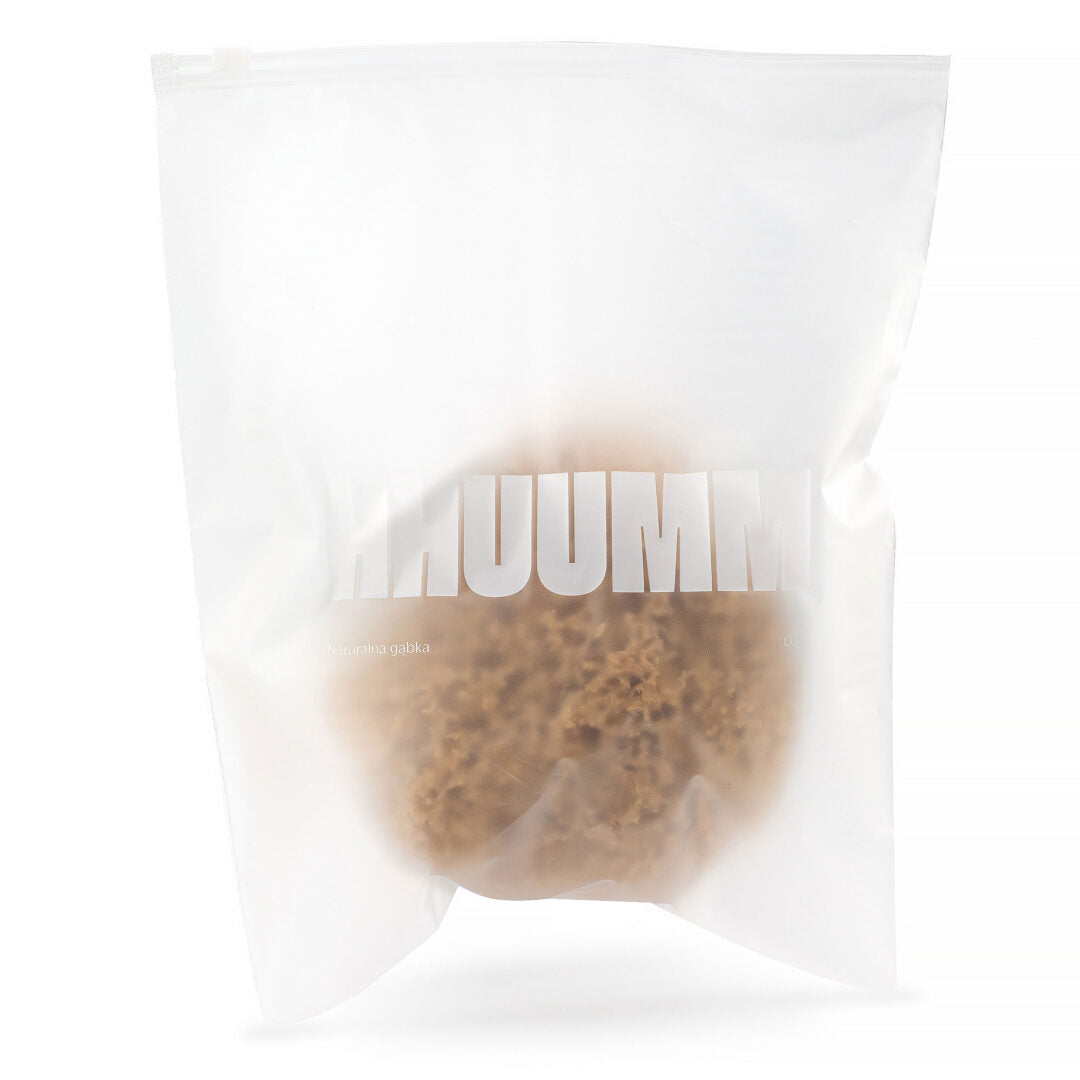 Natural sea sponge (brown) - 17.5 cm 02H
Lowest price 30 days before the discount:
Safe payments PayU, Blik, PayPal
Shipping in 24 hours and 14 days return policy
Have questions? Write to kontakt@hhuumm.pl
Description
Advantages and application
How to care?
Sea Sponge HHUUMM is a completely organic and natural product, which makes it extremely friendly to your skin. Under the influence of water, it becomes soft and delicate, which is why bathing with it is a real pleasure. Thanks to its structure, it has an exfoliating effect on the skin and is perfect for everyday body massage. The skin gains radiance and ages slower. These excellent properties sea ​​sponge thanks to its natural origin.
Natural sea sponge has extraordinary self-cleaning properties, and the enzymes contained in it inhibit the growth of bacteria and mold. It is durable, so you can use it for many years. It is a more hygienic and ecological alternative to synthetic counterparts. Thanks to its hypoallergenic properties, the sponge is suitable for all skin types.
choosing natural sea sponge HHUUMM you do not put more artificial waste into circulation, thus contributing to environmental protection. The sponge comes from the depths of the sea, where it is harvested without harming the ecosystem, because regrowing specimens are larger and healthier.
Natural and ecological / cares through high content of minerals / hypoallergenic / hygienic - contains enzymes that inhibit the growth of bacteria and mold / foams perfectly with any type of soap / absorbs much more water than a traditional sponge / is more durable than a synthetic sponge / gently cleanses and exfoliates the skin / stimulates circulation - the skin is better oxygenated and becomes radiant / recommended for infants and people with sensitive skin / biodegradable.

Indication for use:

Washing and care of normal and sensitive skin of adults, children and babies

Use:

Before using the sponge, it should be slightly moistened so that it swells. It can be used in combination with your favorite cosmetics, we also recommend using it without additional products, so that the skin can absorb valuable marine elements. A natural sponge does not cause allergies and irritations, because it is a pure raw material that cares for and nurtures the skin. It is also a very economical solution, because it is enough even for several years of daily use.
After each use, gently squeeze out excess water and allow to dry. Never wring out the sponge because it can be damaged. Do not use in water above 60°C, as it will lose its properties. Every few weeks, we bathe the sponge in the prepared cleansing solution. It is: 1 cup of water + 1 teaspoon of baking soda or a few drops of tea tree oil. We wet the sponge by pressing it several times. Then we take out and remove excess water. We put it in a warm, ventilated room and wait until it dries. Such a bath will allow you to enjoy the natural sponge for many years.
Natural sea sponge (brown) - 17.5 cm 02H
Frequently asked questions
After how long do you need to replace the sponge?
About half a year, depending on use, they are much more durable than artificial sponges.
How to care for sponges?
To prolong the life of your sea sponge, rinse it after each use. After bathing, leave the sponge in a place where it can dry freely. Periodically, you can clean your sponge by rinsing it with a solution of tea tree oil (1-2 drops of tea tree oil in a glass of warm water or apple cider vinegar solution (1 tablespoon in a glass of water).
Can the sponges be used to wash the face?
Yes, they are delicate. The sponge itself contains minerals that additionally have care properties.
Is obtaining natural sponges harmful to the ecosystem?
They are mined with respect for the marine ecosystem in accordance with the Code of Responsible Fisheries. The sponges are cut off with a knife and the sponge root itself remains at the bottom, thanks to which the sponge regenerates after two to three weeks.
Delivery and Returns
Delivery
We ship most orders within 24 hours of receiving payment or sooner
during sales campaigns, the execution time may be extended
Free delivery for orders from PLN 150 applies in Poland, the minimum order value after calculating a possible discount
The shipping cost from PLN 12 is valid in Poland and depends on the delivery method chosen by the buyer
International shipments
Contact us by e-mail at kontakt@hhuumm.com - we will determine individual shipping costs.
Method of packaging
We try to use eco-friendly materials to pack your parcels, such as cardboard boxes, paper fillers and scraper, which is a friendly filler. The scraper is made of ingredients of plant origin - additionally, it is completely compostable, and the process of utilization of this filler does not pollute the natural environment.
Delivery time in Poland : up to 24 working hours
Returns
If you want to return or exchange the purchased product for another one, please contact us at kontakt@hhuumm.com . Only unused products together with packaging are subject to return. The time to submit a return is 14 calendar days from the date of delivery of the order
About us
Quality
We try to make the materials used in our products natural, biodegradable and least harmful to the environment. We take care of every detail to best meet your expectations.
Solidity
We want to share our knowledge and experience, which we use every day in our pursuit of health and beauty. The basic value of our brand is the desire to give pleasure from using our products, which we create in compliance with all standards and norms.
Effectiveness
Contact with nature and a passion for simplicity have contributed to the creation of a unique style that we want to present by handing you our products. We appreciate peace and quiet, we want our products to provide relaxation and harmony in your own home.